Dalam faktor perankingan situs di search engine, backlink mempunyai salah satu peranan paling vital (selain konten tentunya).
Masalahnya, tidak banyak yang mengetahui dimana tempat mencari backlink berkualitas dan bagaimana cara mendapatkannya.
Website atau blog yang berada di 10 besar halaman pencarian (Halaman 1 SERP), selain mempunyai konten yang bagus, besar kemungkinan juga mempunyai profile backlink yang berkualitas.
Dalam tulisan kali ini, saya akan menjabarkan cara-cara efektif mengintip dan mengetahui backlink website kompetitor serta bagaimana cara menyortirnya agar didapat sumber-sumber backlink yang tepat untuk diduplikasi.

Tools yang akan saya pakai disini adalah Ahrefs (software web based).
Kenapa Ahrefs ?
Karena dari berbagai macam sofware spy backlink yang beredar dan sudah saya coba seperti Open Site Explorer (dari Moz), Majestic SEO, SEO-SpyGlass, WebMeUp atau OpenLinkProfiler, Ahrefs ini termasuk yang databasenya paling lengkap dan updatenya mungkin juga yang paling cepat. Bahkan, lebih lengkap daripada data backlink yang disajikan di Google Webmaster Tools.
Selain itu, Ahrefs juga mempunyai fitur penyortiran data yang cukup lengkap.
Alasan saya menulis tutorial ini…
Jujur saja, sebenarnya ada 4 alasan utama kenapa saya ingin share tutorial untuk mengintip dan melihat backlink kompetitor ini.
Alasan pertama, karena saya ingin melampiaskan kekesalan saya dengan cara yang lebih positif.
Ceritanya, beberapa tahun lalu saya pernah coba-coba membeli ebook premium dari blogger lokal tentang adsense yang didalamnya disertai tips melihat backlink blog orang lain dan menduplikasinya.
Mungkin karena salespage-nya ada embel-embel "Destroy Competitor" atau "Destroy Competition" (lupa-lupa ingat saya), jadi ekspektasi saya isinya pasti benar-benar berkualitas, in-depth (mendalam serta detail) dan advance (ekspektasi saya mirip-mirip tutorial yang ada di blackhatworld :D)
Ternyata yang saya dapat, saya disuruh registrasi di OpenLinkProfiler (gratis), lalu masukkan url web orang lain atau blog milik kompetitor untuk dilihat backlinknya. Kalau sudah kelihatan daftar backlinknya, pilih yang LIS-nya (Link Influence Score) hijau. Setelah itu tiru deh semua backlinknya satu-satu.
Dah gitu aja… Ga ada cara sortirnya(cuma berdasar LIS), ga ada panduan mana yang perlu diduplikasi mana yang tidak, ataupun cara check mana yang bagus mana yang jelek. Duh… benar-benar shit !
Alasan kedua, masih sama seperti yang pertama.
Baru-baru ini saya seperti mengalami Deja Vu. Ada sebuah course premium dari salah satu Imers lokal yang memberikan trik hampir sama seperti ebook premium diatas. Kali ini tagline-nya bukan lagi destroy competitor, tapi "Teknik Reverse Engineering (The best SEO techniques)". Jederr….!!
Karena di salespage-nya ada screenshot tutorialnya (meskipun gambarnya kecil tapi jika diperhatikan dengan seksama tulisan-tulisan didalamnya masih terbaca), jadi saya bisa melihat alur triknya.
Konsepnya hampir sama, menggunakan OpenLinkProfiler untuk melihat backlink kompetitor (dia juga menyarankan tools Ahrefs), kemudian export hasilnya. Langkah selanjutnya saya tidak tahu karena saya belum (dan mungkin tidak akan) membeli course ini.
Ya.. semoga saja tutorial reverse engineering-nya jauh lebih baik dari ebook yang pernah saya beli. Kalau tidak kasihan nanti yang beli karena kadung kesengsem berat dengan jargon "The best SEO techniques"-nya…. :v
Moral of the story : Jangan muluk-muluk kalau bikin salespage. Tagline bombastis sah-sah saja selama bisa memenuhi ekspektasi pembaca. Kalau tidak, siap-siap saja dicaci maki. Apalagi kalau tutorialnya berbayar (premium).
Mungkin strategi seperti itu bagus untuk short-term (penjualan meningkat, banyak order), tapi saya yakin tidak bagus untuk long-term (kredibilitas, brand, dsb).
Alasan ketiga, karena saya lihat di hasil mesin pencarian Google untuk keyword "cara melihat backlink kompetitor", "cara mengintip backlink", "cara mendapatkan backlink website orang lain", dsb tidak ada tutorial yang membahas secara mendalam dan detail. Kebanyakan hanya  menyuruh kita sign-up ke software atau layanan backlink checker gratisan, masukkan website kompetitor, lalu download list backlinknya. Selesai.
I believe I can do it better than that…
Alasan keempat, (maaf kalo jadi agak kepanjangan) karena lagi-lagi, ada salah satu teman di Facebook yang menanyakan tentang hal ini.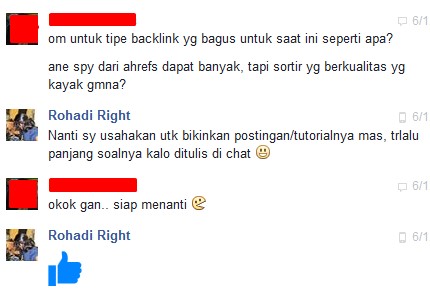 Daripada saya jawab panjang lebar via chat (yang tentunya tidak efektif karena menyita banyak waktu dan hanya akan dibaca 1 orang), maka saya putuskan untuk menuliskannya disini.
Oke.. sudah cukup kepanjangan intronya..
Mari menuju ke pokok bahasan ;)
Mengintai & Menyortir Backlink Web Kompetitor Dengan Ahrefs
Selain belajar melihat dan mengetahui backlink dari website atau blog kompetitor, didalam tutorial kali ini anda juga akan belajar tentang :
Cara Cepat Sortir Backlink
Cara Sortir Backlink Berdasarkan Authority Website
Cara Sortir Backlink Berdasarkan Kekuatan Link (LinkJuice)
Cara Sortir Backlink Berdasarkan Bahasa
Cara Sortir Backlink Dengan Beberapa Filter Sekaligus
Step #1
Langkah pertama tentu saja anda harus mempunyai tools Ahref yang versi premium.
Harga normal di website resminya memang cukup mahal, meskipun untuk paket yang paling murah sekalipun. Menurut saya, paket-paket yang ditawarkan lebih cocok untuk SEO Agency, bukan pemain SEO perorangan.
Kabar baiknya, ada cara untuk mengakali ini.
Anda bisa mendapatkan tools seharga $99/month ini dengan mengeluarkan biaya $8/month disini.
Atau anda bisa mendapatkannya dengan biaya $5-$10 di Fiverr (search dengan keyword "Ahrefs account").
Tapi jika anda ingin tetap membelinya langsung dari website resminya, anda bisa membelinya disini.
Step #2
Setelah anda mempunyai akun Ahrefs premium, langkah selanjutnya adalah mengumpulkan website-website kompetitor untuk di analisa profile backlinknya.
Search di Google.com (jika web anda berbahasa Inggris) atau Google.co.id (jika web anda berbahasa Indonesia) keyword yang anda incar.
Misal, saya mengincar keyword "cara mengetahui backlink website" maka hasil search yang saya dapat seperti ini :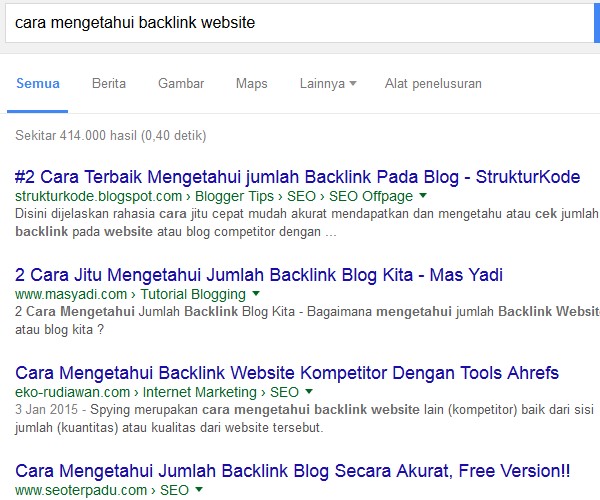 Step #3
Masuk ke https://Ahrefs.com/site-explorer, paste url dari website pesaing yang berada di halaman 1 Google kemudian klik "Explore".
Untuk kotak ditengah yang berisi pilihan URL, Prefix, domain/* dan *.domain.* tidak perlu diotak-atik karena sudah otomatis menyesuaikan dengan url yang kita paste.
Misal, disini saya coba untuk melihat profile backlink dari website yang berada di posisi #1 yaitu web blogspot dengan url postingan :
http://strukturkode.blogspot.com/2015/09/cara-menetahui-jumlah-backlink-blog.html

Disini anda bisa melihat secara lengkap profile backlink web blogspot ini mulai dari jumlah backlink total, jumlah referring domain (jumlah total domain/website yang mereferensikan), jumlah organic keywords (jumlah total keyword yang merangking di SERP) sampai jumlah total share di social media.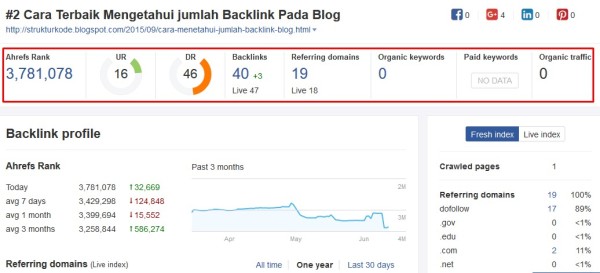 Keterangan :
Ahrefs Rank : Ranking website versi Ahrefs. Mirip dengan Alexa Rank, semakin kecil nilainya semakin bagus.
UR : URL Rating. Rating dari url atau pages yang di analisa. Dalam hal ini adalah url lengkap http://strukturkode.blogspot.com/2015/09/cara-menetahui-jumlah-backlink-blog.html. Jika di Moz bisa dibilang hampir sama dengan parameter PA (Page Authority).
DR : Domain Rating. Rating dari root domain. Dalam contoh diatas berarti subdomain strukturkode.blogspot.com. Jika di Moz fungsinya hampir sama seperti parameter DA (Domain Authority).
Backlinks : Jumlah total backlinks.
Referring Domains : Jumlah total domain yang mereferensikan.
Organic Keywords : Jumlah total keyword yang merangking di posisi 1-100 SERP.
Paid keywords : Jumlah total keyword berbayar (memakai iklan).
Organic Traffic : Estimasi trafik natural yang masuk ke website.
Dibagian bawah anda bisa melihat data-data ini dalam bentuk diagram, termasuk juga persentase anchor text, halaman-halaman yang populer (top pages), komposisi backlink dofollow nofollow, persentase penggunaan backlink dalam bentuk text, image, redirect, dsb.
Step #4
Karena disini yang ingin kita ketahui adalah url dari backlink-backlinknya, maka kita masuk ke bagian "Backlinks" yang berada di sidebar sebelah kiri.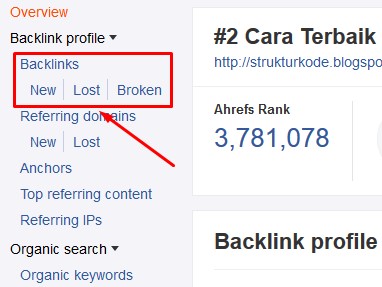 Dibagian backlink ini ada 3 sub-kategori yaitu New (backlink yang baru didapat, bisa disetting dalam rentang waktu tertentu), Lost (backlink yang hilang karena dihapus atau berpindah halaman atau karena sebab lain) dan Broken (backlink yang hilang karena domain expired, halaman sudah tidak eksis, dsb).
Biasanya saya langsung pilih di bagian Backlinks saja (tanpa memilih sub-kategori) agar semua backlink bisa tampil, karena dari pengalaman saya Ahrefs kadang juga melakukan kesalahan dengan menandai backlink yang masih eksis dengan tanda dropped, link removed, dsb.
Dari sini, seluruh backlink dari web blogspot diatas yang sudah di crawl bot Ahrefs akan ditampilkan.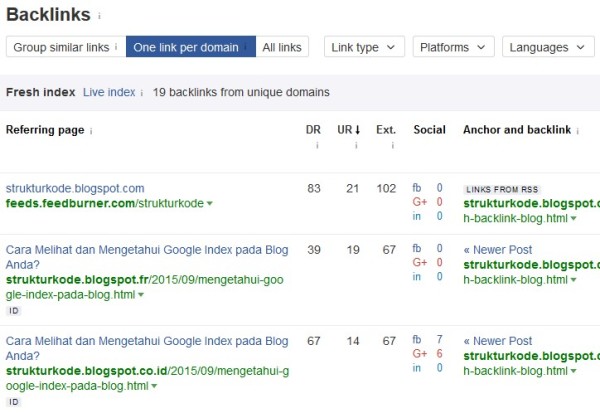 Note: backlink yang tampil disini tidak selalu 100% backlink yang didapatkan web yang dianalisa, karena bisa saja mereka mendapatkan backlink-backlink dari website PBN yang dipasangi script khusus agar tidak bisa di crawl bot-bot backlink checker seperti Ahrefs.
Step #5
Selanjutnya, kita bermain-main dulu dengan data yang ada. Jangan buru-buru melakukan export karena menurut saya sortir backlink langsung dimenu Ahrefs jauh lebih mudah daripada via excel atau csv.
Pertama-tama, pilih untuk menampilkan hanya satu link per domain (agar proses penyortiran backlink bisa lebih cepat).
Caranya, klik pilihan "One link per domain".

Anda juga bisa menyetel pilihan ini sebagai settingan default dengan cara menekan tombol setting bergambar gear yang berada di sisi kanan. Di menu show by default pilih "One link per domain" kemudian klik tombol Save.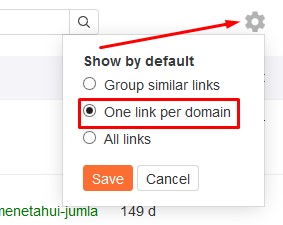 Setelah itu, anda bisa mengurutkan backlink berdasarkan authority domainnya dengan cara menekan tombol "DR".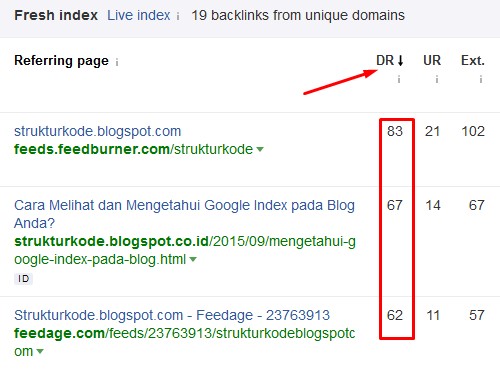 Dari contoh diatas, tampak bahwa web yang authority nya paling besar adalah feeds dari feedburner-nya Google. Backlink yang relatif mudah ditiru (duplikasi).
Kemudian dibawahnya ada backlink dari Feedage.com. Ini juga sangat mudah ditiru. Tapi wait, disebelah kanan ada tanda coretan pada anchor text-nya yang menandakan bahwa ini backlink Nofollow (maaf screenshotnya kurang lebar :D).
Dari sini terserah anda mau mengakuisisi backlink ini atau tidak.
Lanjut kebawahnya tidak ada backlink lain selain backlink redirect dari exstensi blogspot. Karena hanya 2 external link, saya menduga bahwa url web blogspot diatas tidak banyak melakukan optimasi off-page untuk keyword "cara mengetahui backlink website", tapi kebetulan merangking keyword tersebut karena authority yang ada di subdomain blogspotnya (strukturkode.blogspot.com).
Sekarang kita coba cek profile backlink subdomainnya langsung :

Benar saja, blog ini punya 167 ribu backlink yang berasal dari 436 domain!
Lanjut ke analisa backlink berdasarkan Authority, blog ini mendapatkan backlink dari G+, feedburner, DMCA.com, website-website berekstensi .gov (kebanyakan memakai metode redirect di exit page), kompas, kaskus, dsb.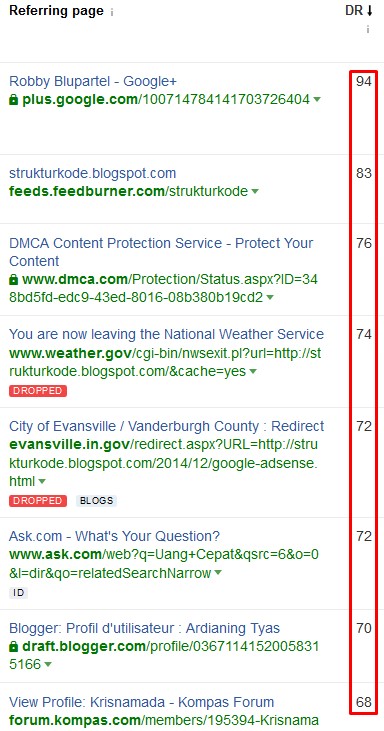 Dengan mengurutkan berdasarkan DR (domain rating) dan hanya menampilkan satu link per domain, anda bisa lebih cepat menyortir backlink-backlink dari root domain yang berkualitas (walaupun DR tinggi tidak selalu menjamin 100% domain tersebut berkualitas).
FYI, saat hunting aged dan expired domain untuk PBN, saya juga menggunakan parameter DR dari Ahrefs ini untuk menentukan kualitas backlink.
Untuk DR parameter saya nilai-nya 50 keatas. Jika DR nya dibawah 50 saya anggap authority-nya masih kurang.
Selanjutnya, anda juga bisa menyortir backlink berdasarkan authority pages-nya.
Caranya, klik pada kolom "UR".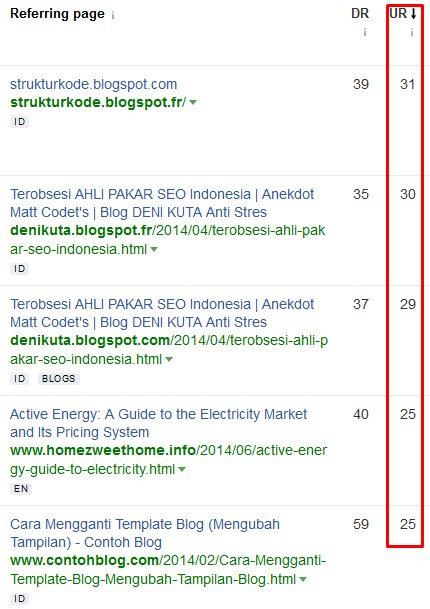 Disini, Ahrefs akan menampilkan backlink dari halaman-halaman (pages) yang mempunyai authority tinggi. Biasanya backlink yang muncul disini adalah backlink yang didapat dari dalam artikel (blogpost, guest post) atau dari kolom komentar (nebeng link di pages ber-authority).
Lanjut lagi, kali ini bagi anda yang ingin mendapatkan backlink dari web-web dengan outbond link rendah agar power link juice-nya lebih mantap.
Anda bisa menyortirnya dengan cara menekan 2x pada kolom Ext. (external backlinks).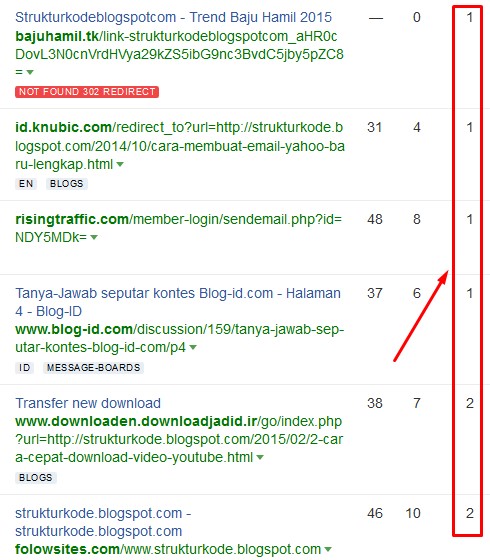 Jika anda menekan tombol Ext. hanya satu kali, maka yang akan tampil adalah website/pages dengan external link paling banyak.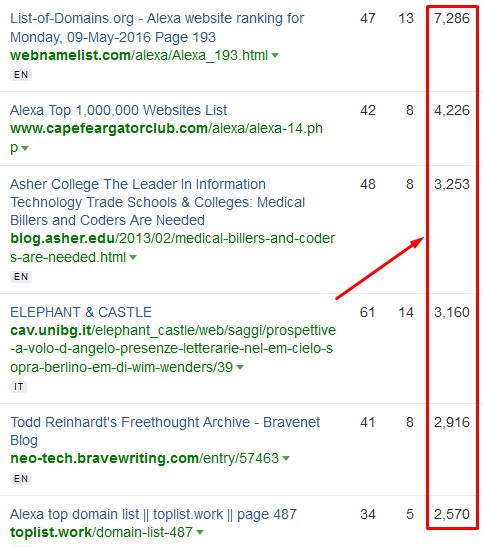 Anda pasti tidak menginginkan backlink jenis ini, karena backlink dengan external links ribuan seperti ini biasanya berasal dari blog komen yang sudah penuh dengan spam link atau dari web directory tanpa konten, hanya link-link saja.
Walaupun domain ratingnya tinggi, backlinknya tidak lagi powerful karena linkjuice-nya terbagi-bagi ke ribuan link.
Step #6
Lanjut ke langkah selanjutnya, kali ini kita akan menyortir backlink berdasarkan jenis link, platform dan bahasa.
Misal, anda hanya menginginkan jenis backlink dofollow, maka anda bisa klik tombol "Link type", dan di menu drop down yang tampil pilih "Dofollow".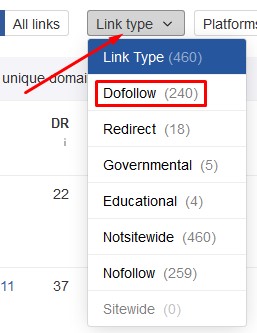 Atau anda hanya menginginkan backlink yang bukan sitewide ? Bisa …
Tinggal klik tombol "Link type", kemudian pilih "Notsitewide".
Note: Sidewide adalah backlink yang muncul disemua halaman web, seperti backlink di blogroll atau footer.
Untuk sortir backlink berdasarkan platform, saya hampir tidak pernah menggunakan. Tapi jika anda ingin mencobanya silahkan, mungkin anda ingin mencari backlink dari platform Wiki (sempat populer sebelum akhirnya banyak dispam software-software auto), E-commerce, Blog komen dsb.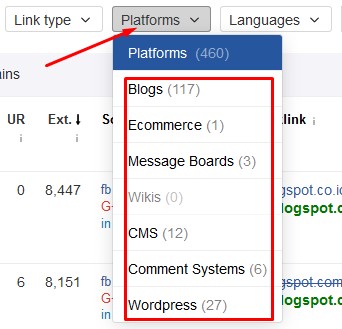 Yang terakhir adalah sortir backlink berdasarkan bahasa.
Cara ini sangat cocok untuk anda yang mengedepankan kualitas.
Dengan hanya memilih backlink yang berasal dari bahasa yang sama dengan konten money site, kesempatan kita untuk mendapatkan backlink yang relevan jauh lebih besar.
Misal, dari web blogspot diatas kita ingin melihat sumber backlink dengan bahasa Indonesia, maka dari menu "Languages" kita pilih "Indonesian".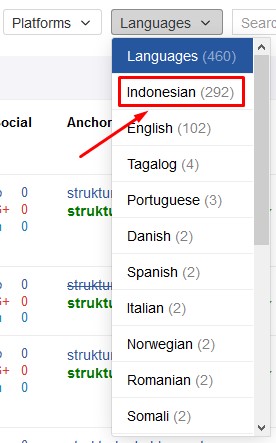 Kombinasikan Filter Untuk Hasil Terbaik
Dari filter-filter yang ada di Ahrefs ini, kita bisa mengkombinasikannya untuk menghasilkan list backlink yang paling optimal.
Misal, dari web contoh diatas diketahui bahwa jumlah total referring domainnya adalah 436.
Tapi kita ingin menyortirnya dengan hanya menyertakan backlink yang dofollow dan berbahasa Indonesia. Maka, cara yang bisa kita pakai adalah :
Pada menu Link Type, pilih "Dofollow", kemudian pada menu Languages, pilih "Indonesian"

Dari 2 filter diatas, didapat list 155 backlink yang bertipe dofollow dan juga berbahasa Indonesia.
Dari sini anda bisa melakukan export (berada dimenu sebelah kanan) dan mendownload file list backlinknya.
Jika anda ingin menambahkan list backlink dofollow yang berbahasa Inggris, anda bisa ulangi cara diatas, kali ini dengan pilihan bahasa "English" (dari contoh diatas berjumlah 69). Hasilnya bisa anda export dan anda gabung dengan file excel yang pertama.
Dengan cara tersebut, anda sudah mendapatkan 224 backlink yang bertipe dofollow, berbahasa Indonesia dan Inggris.
Mudah bukan ?
Dari sini, anda bisa berkreasi sendiri dan mengotak-atik filter yang ada agar sesuai dengan tipe backlink yang ingin anda cari.
Step #7
Dari setiap hasil backlink yang ditampilkan dengan cara-cara diatas, anda bisa mencoba menduplikasi backlink-backlink tersebut dengan cara mengunjungi url referring page-nya satu persatu :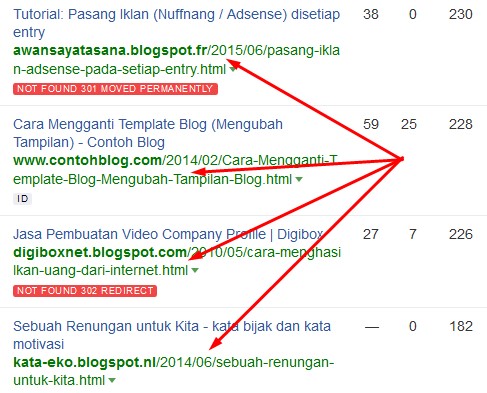 Dari situ anda bisa melakukan pertimbangan apakah backlink tersebut bisa ditiru atau tidak.
Saran saya, mulai dari backlink dengan DR paling tinggi.
Backlink berupa blog komen, guest book, web 2.0, link profile atau submit artikel biasanya mudah ditiru dan diduplikasi.
Sedangkan backlink yang berasal dari guest post, blogpost dan blogroll biasanya yang paling susah di duplikasi karena harus menghubungi owner web yang bersangkutan. Itupun jika anda tidak sial karena backlink dipasang di web property milik kompetitor itu sendiri.
Tidak ada cara instant disini, seperti mendownload list backlink kemudian memasukkannya ke software auto untuk di submit otomatis (kecuali jika list backlinknya berasal dari satu tipe yang sama atau anda mempunyai software auto submit yang super canggih).
Akhirnya, dari cara-cara yang saya sampaikan diatas, anda harus memilih sendiri mana yang paling cocok untuk anda gunakan berdasarkan kebutuhan.
Tiap money site dan niche mempunyai treatment yang berbeda-beda.
Misal, saya mempunyai website manual berbahasa Indonesia dengan konten yang sangat berkualitas dan ingin saya kelola untuk jangka panjang. Tentunya, saya ingin mengoptimasinya secara hati-hati baik on page maupun off page-nya.
Besar kemungkinan, backlink-backlink yang saya pilih adalah backlink dofollow, berbahasa sesuai dengan konten money site saya dan berbahasa Inggris (karena Inggris adalah bahasa internasional jadi menurut saya backlink dari bahasa ini cukup aman dari algoritma Google Penguin).
Saya akan sebisa mungkin menjauhi link-link dari web berbahasa vietnam, china, atau rusia.
External backlinks pun akan saya pilih yang jumlahnya sedikit, setidaknya dibawah 100.
Saya mungkin juga akan membatasi backlink hanya dari domain dengan DR 50+.
Lain lagi jika saya mempunyai website bertipe short-term seperti web dengan niche software gratis, mp3 gratis, download movie, dan sebagainya.
Website-website jenis ini persaingan backlinknya cukup tinggi dan sangat sulit mendapatkan backlink natural.
Jadi, menggunakan cara yang pertama mungkin tidak akan berhasil.
Saya harus lebih agresif dalam melakukan linkbuilding dan melonggarkan kriteria backlink.
Website jenis ini juga lebih sering terkena deindex atau DMCA, jadi menggunakan cara link building pelan-pelan dan hati-hati mungkin tidak akan sesuai.
Jadi, gunakan sesuai kebutuhan….
Dengan sering mengotak-atik fitur-fitur yang ada di Ahrefs, saya yakin anda akan segera terbiasa dan menemukan style anda sendiri dalam menganalisa backlink.
Semoga tutorial ini bisa bermanfaat. Jika ada yang kurang jelas silahkan tanyakan di komentar :)
Topik lain seputar SEO :