Fiverr Journey
Bermain di Fiverr memang mengasyikkan. Dari mulai awal cuma coba – coba dengan harapan agar bisa jadi sumber penghasilan sampingan jika online earning yang utama (saat itu masih PTR, adsense dan amazon) mengalami kemacetan. Eh malah akhirnya keterusan sampai sekarang dan menjadi sumber income utama buat saya setelah job – job PTR mulai sepi karena munculnya Google Panda 'n Penguin yang menghantam website -website paid links, musim banned – bannedan massal di Adsense yang bikin ketar ketir dan akhirnya memutuskan untuk banting setir hingga Amazon yang seenaknya kirim email closed akun yang bikin para affiliaternya (termasuk saya) serasa menjalani kerja rodi tanpa digaji :(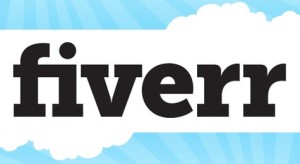 Bagi saya pribadi, bermain di Fiverr tidak semudah bermain amazon autoblog karena di Fiverr kita dituntut untuk selalu kreatif dan out of the box dalam membuat service yang menjual dan mempunyai keunggulan dibandingkan  service – service yang lain yang ada di fiverr. Kita juga harus ekstra aktif dalam menjawab pertanyaan calon buyer (biasanya mereka nanya -nanya dulu sebelum order). Disini, biasanya kendala yang sering dihadapi oleh seller – seller dari kita yang notabene mother language nya bukan English. Saya sendiri di awal – awal dulu juga menemui kesulitan dalam hal ini karena bahasa bule saya juga amburadul, terutama untuk masalah grammar :D Untunglah akhirnya dapat istri seorang content writer yang ngajari soal grammar dan tata bahasa dalam bahasa inggris (eaa malah curcol akhirnya) ;))

By the way untuk masalah menjawab message dari buyer atau calon buyer, saya punya beberapa tips untuk anda :
Sediakan template.  Ya, template disini akan sangat membantu mempercepat waktu kita dalam menjawab pertanyaan yang diajukan buyer. Anda bisa menyimpan template kalimat yang biasanya dipakai untuk menjawab pertanyaan ke dalam notepad atau aplikasi Type it in (ini yang biasa saya pakai).
Be Polite. Pakai bahasa yang Sopan. Tidak wajib, tapi sangat membantu meningkatkan trust buyer dan chance untuk order.
Always mobile. Usahakan mempunyai gadget (handphone atau tablet) yang selalu mobile agar kita bisa merespon dengan cepat setiap pertanyaan dari buyer. Karena orang bule (terutama eropa dan amerika) dari pengalaman saya sangat menghargai ketepatan waktu.
Poin – poin diatas sudah saya terapkan dan cukup membantu dalam meningkatkan sales.
Menuju Top Rated Seller dan $1000 / Month
Dari awal bermain fiverr dulu (awal 2012 kalau tidak salah) dengan penghasilan tidak sampai $50 per month alhamdulillah sekarang bisa nyampai lebih dari $100 / month. Bulan kemaren (juni 2013) bisa tembus $500 / month dan target untuk bulan ini dan seterusnya adalah $1000 / month. Doakan agar saya bisa ;)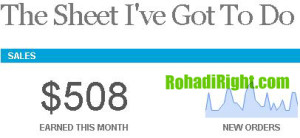 Sebenarnya target saya dari fiverr adalah $500 / month, jika sudah bisa stabil di angka itu, saya berencana ekspansi ke online earning yang lain (dropship toko onlen, CPA atau Clickbank). Tapi karena memang lagi beruntung atau memang sudah ditunjukkan jalan oleh-Nya, semenjak tampilan Fiverr yang baru (#NewFiverr) gig saya tiba – tiba muncul dipage teratas untuk beberapa pencarian populer yang berhubungan dengan service saya, jadilah order mengalir lebih deras, dan harus menyewa karyawan buat outsourcing nya karena tenaga saya tidak cukup. Dan target pun saya naikkan menjadi $1000 / month, dan dari seller level 2 ke Top Rated Seller (kalau yang ini mungkin masih sulit tercapai dalam beberapa bulan kedepan) sambil membuka ranjang baru bwt bertelor…eh, keranjang baru buat nyimpen telor alias membuka lahan usaha baru :D
Dipostingan selanjutnya saya akan coba memberikan tips – tips advance bwt meningkatkan sales di Fiverr (versi saya). Semoga saja saya bisa konsisten terus menulis di blog yang beberapa bulan tidak terurus ini, karena bagaimanapun, blog pribadi adalah salah satu aset berharga bagi seorang pekerja online yang sekarang perannya mulai tergantikan oleh social media.