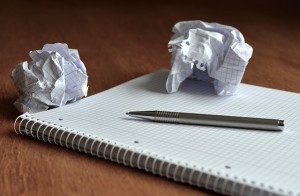 Banyak blogger yang tahu cara menulis artikel secara lancar dan teratur, tapi tidak banyak yang tahu cara menulis artikel SEO friendly.
Update algoritma Google yang terbaru, artikel website yang berkualitas tidak hanya bagus untuk mesin pencari, tapi juga untuk pembaca (human).
Banyak tips-tips tentang cara menulis artikel yang SEO friendly di internet, tapi tidak semuanya bisa diaplikasikan dan ada beberapa bahkan yang sudah outdated dengan perkembangan algoritma mesin pencari terkini, utamanya Google.
Untuk itu saya sajikan artikel 15 cara terampuh menulis artikel SEO friendly yang kemungkinan besar belum Anda tahu!
Silahkan disimak :)
1. Utamakan User Experience
User experience atau pengalaman pengguna.
Poin ini saya masukkan sebagai poin pertama karena saya anggap sebagai elemen paling penting dalam menulis artikel SEO friendly. Dan nantinya, poin-poin lain yang ada ditulisan ini juga banyak berbuhungan dengan user experience atau biasa disebut UX.
Kenapa user experience ?
Karena sangat susah dimanipulasi.
Tidak seperti backlink dan konten, user experience sangat susah dimanipulasi karena diluar kontrol kita sebagai pemilik web. Jadi, tidak heran jika inilah salah satu faktor penting yang digunakan Google untuk meminimalisir manipulasi ranking di search engine mereka.
Maksud dari user experience di sini adalah aktivitas dan respon user ketika mereka menjelajahi blog kita. Mulai dari berapa lama mereka membaca, respon terhadap artikel yang dibaca, berapa halaman yang mereka buka, bagian-bagian web mana yang mereka klik, dan sebagainya.
Logikanya, semakin lama dan betah mereka di suatu web, maka makin berkualitas isi dari web tersebut.
Meski soal ini masih menjadi perdebatan, tapi banyak yang berpendapat bahwa Google bisa melacak hampir seluruh aktivitas browsing kita, meski tanpa menggunakan properti mereka seperti Google analytic, Google toolbar ataupun Google chrome.
Temuan dari seorang member Blackhatword bernama John Limbocker yang diulas disini sedikit membuka mata saya soal bagaimana Google menggunakan user experience sebagai salah satu faktor perankingan situs.
Jadi se-expert apapun teknik penulisan artikel SEO Anda, jika tidak memperhatikan user experience maka kemungkinan besar hasilnya tidak akan maksimal.
Apa saja yang masuk ke dalam kategori user experience ? Banyak.
Konten yang berkualitas adalah salah satunya.
Faktor-faktor lain yang mempengaruhi user experience misalnya :
Desain Website / Blog yang profesional
Navigasi yang mudah
Ukuran dan jenis font yang mudah dibaca
Meminimalisir kesalahan ejaan (typo)
Interaksi yang baik (komentar, diskusi, share, dsb)
Kecepatan loading
Responsive design
dsb.
Inti dari UX adalah, menyajikan konten dan website yang berkualitas dengan menempatkan pembaca sebagai sasaran utamanya.
2. Gunakan Keyword di Judul Artikel

Ini wajib dilakukan jika Anda ingin lebih mudah bersaing di SERP. Karena judul (title) merupakan elemen pertama yang di crawl Google untuk menentukan topik suatu artikel.
Tidak memberi keyword utama di title sama saja dengan menyuruh Google untuk menebak-nebak tema postingan Anda.
Peletakan keyword yang paling baik pada title adalah yang diawal kata. Makin ke kiri (ke awal kata) makin baik.
Tapi hal ini bukan suatu keharusan karena menyesuaikan juga dengan keseluruhan title agar tetap enak dibaca dan mengundang klik.
Jangan sampai hanya karena ingin lebih SEO-friendly, judul artikel Anda malah jadi aneh dan susah dibaca.
Fenomena yang sering terjadi di website-website lokal, banyak yang justru mengorbankan user (pembaca) hanya demi mengejar keyword-keyword utama di dalam title postingan.
20 Model Jenis Komputer PC Terbaik Terbaru 2016
Model Baju Batik Long Dress Muslim Terbaru 2016 Terbaik!
Model dan Desain Baju Batik Sarimbit Modern Terbaru dan Terbaik
Familiar dengan title-title postingan membingungkan seperti diatas ??
Untuk panjang title, usahakan kurang dari 71 karakter. Batasan ini tidak baku karena tergantung dari jumlah pixel yang dipakai tiap karakter.
Untuk referensi panjang title dan meta description, silahkan cek disini.
3. Gunakan Judul yang Mengundang Klik
Seperti contoh kasus diatas, kadang ada yang kesulitan dalam membuat judul artikel karena jika dibuat sesuai keyword yang dibidik, akan tampak canggung dan kaku ketika dibaca. Namun jika dibuat menjadi judul yang luwes dan mengundang klik, justru keywordnya yang tidak bisa masuk.
Untuk masalah diatas, saya ada solusi.
Bagi Anda pengguna wordpress, gunakan plugin All in One SEO pack atau sejenisnya yang berfungsi untuk me-rewrite judul artikel. Jadi, Anda punya 2 judul untuk 1 postingan. 1 judul untuk pembaca (user), 1 judul untuk search engine.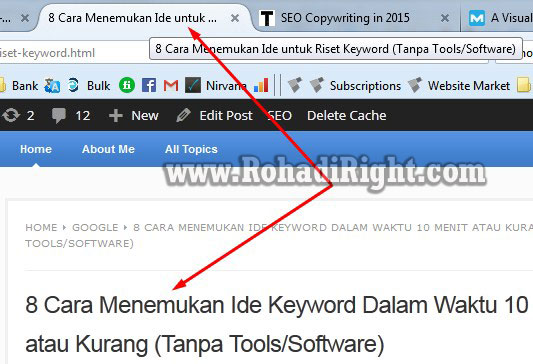 Untuk jumlah huruf dalam judul yang dibuat untuk search engine usahakan tidak melebihi 60 huruf, agar tidak terpotong di halaman pencarian.
Update terbaru, Google membatasi Title tag di SERP menjadi 600px, untuk jumlah karakter tergantung penggunaan huruf besar dan kecil, spasi, tanda baca dsb.
Usahakan juga judul untuk search engine ini tetap enak dibaca karena nantinya pengunjung dari search engine pasti membaca judul dan deskripsi tulisan Anda (snippet) di search engine sebelum masuk ke blog.
Jika judul Anda kaku dan tidak enak dibaca maka akan mengurangi CTR di SERP dan Google jadi berfikir, "ini blog di page one tapi kok jarang yang ngeklik, ini pasti tulisannya tidak berkualitas".
Apakah Anda pernah berfikir sampai kesitu ??
Contoh mudahnya adalah blog-blog AGC (auto generated content).
Kenapa mereka jarang menguasai SERP, apalagi untuk keyword-keyword potensial ? Menurut saya salah satunya dikarenakan judul dan deskripsi di snippet mereka rata-rata berantakan dan tidak mengundang klik.
AGC biasanya menang di keyword-keyword long tail yang panjang dan keyword-keyword typo (salah tulis) yang jarang dan hampir tidak ada kompetitornya.
Untuk judul yang dibaca user Anda bisa berkreasi sesuka hati. Usahakan yang catchy dan tetap menarik klik.
4. Tulis Artikel Panjang & Dalam

Banyak yang berpendapat semakin panjang artikel maka semakin baik pula peringkatnya di search engine.
Pendapat ini bisa benar, bisa juga salah. Lagi-lagi balik ke poin pertama, tergantung dari user experiencenya.
Kalau Anda bisa menulis artikel yang panjang dengan tetap mengutamakan user experience maka tentu saja itu lebih bagus. Namun jika Anda bersikeras menulis artikel panjang hanya untuk memenuhi target SEO (dengan isi artikel acak-acakan dan muter-muter) saya rasa cara Anda tersebut tidak akan efektif.
Apa yang saya maksud dengan artikel panjang dan dalam ?
Maksud saya adalah artikel yang tidak hanya panjang (banyak) jumlah kata-katanya, tetapi juga membahas topik secara mendalam (lengkap dan menyeluruh).
Dalam bahasa inggris sering disebut dengan istilah in-depth content.
Analisa Backlinko.com terhadap 1 juta pencarian di Google baru-baru ini mendapati bahwasanya rata-rata panjang artikel di halaman 1 SERP adalah 1.890 kata.
note : Jangan menambahkan kalimat atau topik yang tidak perlu hanya untuk tujuan mengejar jumlah kata. Malah, sebisa mungkin gunakan kalimat yang simpel dan tidak bertele-tele, agar topik yang anda bahas bisa lebih luas dan lengkap.
5. Gunakan Internal Linking
Internal linking adalah link antar halaman dalam satu blog/website.
Berapa jumlah ideal internal link per post nya ?
Lagi-lagi tidak ada ukuran pasti karena ini juga berhubungan dengan user experience. Jika Anda merasa 10 internal link per post tidak akan menyakiti mata pembaca Anda maka silahkan saja.
Jika ada yang bilang internal link tidak boleh melebihi 3-5 link per post maka abaikan saja, pasti yang ngasih saran kurang update ilmu SEOnya.
Lihat Wikipedia sebagi contohnya, berapa interlink mereka per halamannya ? Banyak.
Apakah mereka di penalty Google ? No.
Selain bagus untuk user experience, internal linking juga akan memperkuat antara halaman yang satu dengan yang lain dari sisi SEO.
Dengan internal link, jika salah satu halaman mendapat sebuah backlink, maka 85% power dari backlink tersebut akan mengalir dan terbagi-bagi ke halaman lain yang mendapat link dari halaman tersebut (biasa disebut dengan linkjuice).
6. External Linking ke Authority Site yang Relevan
Banyak yang salah kaprah soal ini. Karena takut peringkat webnya jatuh jika memberi link keluar maka banyak yang menggunakan link nofollow ketika melakukan external linking.
Pendapat saya, selama external link Anda ke web-web authority yang relevan dengan topik tulisan, maka memberi dofollow link tidak akan memberi efek buruk ke web Anda. Malah sebaliknya, Google akan melihat web Anda sebagai web yang bagus karena selalu mereferensikan web-web yang sudah di percaya.
External link ke web-web yang berkaitan dengan topik bahasan juga membantu pembaca untuk mendapatkan sumber-sumber referensi lain yang akurat.
Tips :
Ketika melakukan external link, gunakan attribut dofollow untuk web-web authority yang relevan dengan topik tulisan, dan gunakan attribut nofollow untuk web-web affiliate (jika Anda merekomendasikan produk/jasa).
7. Jangan Mengkhawatirkan Keyword Density
Keyword density adalah intensitas tampilnya keyword dalam satu halaman artikel.
Berapa keyword density yang ideal untuk artikel yang SEO friendly ?
Jika dulu dijaman sebelum Google Panda banyak yang menyarankan di sekitar 3% – 5%, untuk algoritma sekarang ini sebaiknya Anda tidak perlu terlalu memusingkan soal itu. Keyword density mungkin penting, tapi algoritma terbaru Google sudah cukup pintar untuk mendeteksi kualitas dari sebuah artikel.
Anda malah harus berhati-hati jika persentase keyword density terlalu banyak, karena bisa berefek buruk (keyword stuffing).
Lebih fokus ke user experience dan keyword density, maka LSI serta sinonim biasanya akan menyesuaikan dengan sendirinya.
Logikanya, jika artikel Anda bagus dan berkualitas, serta membahas topik secara mendalam maka keyword-keyword yang ingin Anda optimasi akan masuk dengan sendirinya melalui tulisan-tulisan Anda.
Bukan begitu ??
8. Masukkan Latent Semantic Indexing (LSI) Keywords

Meski tidak sama persis pengertiannya, LSI bisa di bilang hampir sama dengan sinonim atau related keywords (kata-kata / istilah yang masih berhubungan dengan keyword utama). Simak disini untuk penjelasannya.
Misal, Anda sedang menulis tips tentang cara menulis artikel yang SEO friendly (seperti tulisan saya ini :D), maka Anda bisa menambahkan istilah-istilah seperti blog, backlink, theme, plugin, template, Google, search engine, tutorial dan istilah-istilah lain yang relevan, tentunya dengan tetap mengutamakan tulisan yang berkualitas dan enak dibaca.
Contoh lagi jika Anda menembak keyword "baju muslim", maka lebih bagus jika Anda bisa mengikutsertakan kata-kata seperti busana muslim, baju gamis, abaya atau hijab kedalam tulisan Anda. Anda juga bisa menambahkan istilah-istilah yang berhubungan seperti toko online, belanja, fashion, islam dan sebagainya.
Untuk mencari keyword-keyword LSI Anda bisa memakai Google Suggestion/Autocomplete, Google Related Search atau plugin (untuk wordpress) yang memang mempunyai fitur ini, seperti SEOpressor misalnya.
9. Kurangi Penggunaan Bold, Italic, Underline
Ini juga salah satu teknik jadul yang kadang disalahgunakan.
Menggunakan tanda bold (garis tebal), italic (garis miring) dan underline (garis bawah) fungsinya untuk membantu search engine mengenali kata-kata yang penting di artikel kita.
Tapi dalam prakteknya, banyak yang menggunakannya secara berlebihan dan mengaplikasikannya hanya pada keyword-keyword yang di bidik saja.
Mungkin itu bisa sedikit membantu dari segi penguatan keyword, tapi dari segi user experience, sangat buruk. Tulisan dengan penggunaan Bold, Italic dan Underline yang berlebihan bisa membuat pembaca sakit mata dan cepat-cepat menutup halaman web karena tulisan yang dibaca kelihatan tidak profesional.
Gunakan Bold, Italic dan Underline sewajarnya saja.
Kalaupun untuk memperkuat keyword, gunakan bold sekali saja. Untuk italic biasanya digunakan pada istilah-istilah asing, sedangkan underline untuk istilah atau catatan yang penting. Anda bisa mengimprovisasi penggunakan fitur ini dengan tetap memperhatikan segi user experience.
10. Gunakan Elemen h1, h2 & h3
Elemen heading h1, h2 & h3 digunakan untuk menentukan elemen-elemen terpenting pada suatu halaman website.
Di theme-theme default wordpress atau template default blogspot elemen h1 biasanya digunakan untuk Judul website (homepage), H2 untuk judul postingan dan h3 untuk elemen-elemen website yang lain seperti related post dan widget di sidebar.
Struktur theme default dengan h1 dihomepage lebih cocok untuk website-website niche khusus (microniche) karena keyword utama memang berada di homepage. Namun theme jenis ini kurang disukai karena tidak dinamis seperti theme-theme premium yang banyak dijual dipasaran.
Theme dinamis dengan struktur SEO friendly biasanya mempunyai struktur heading yg sama dengan theme-theme default ketika dihomepage, namun berubah ketika di halaman postingan, dengan menempatkan judul postingannya sebagai h1 (bukan judul homepage).
Ketika Anda menulis artikel untuk keperluan SEO, pastikan h1 Anda adalah judul postingan. Untuk h2, Anda bisa menggunakannya di sub title postingan.
Seperti yang saya lakukan di tulisan ini, ke 15 poin yang ada dalam cara menulis artikel seo ini saya tulis dengan menggunakan h2.
note: Penggunaan h2, h3 dst bisa lebih dari 1x dalam satu halaman website (pages). Tapi penggunaan h1 sebaiknya hanya 1x saja karena h1 adalah topik utama suatu halaman.
11. Gunakan URL Pendek dan Mengandung Keyword Utama

Sedikit berbeda dengan Judul artikel, permalink yang bagus bukan yang kaya variasi keyword, tapi yang mudah dideteksi oleh search engine apa yang menjadi topik utama artikel tersebut.
Contoh :
Judul : 15 Cara Ampuh menulis artikel SEO friendly yang Belum Anda Tahu!
Permalink asli : /15-cara-ampuh-menulis-artikel-seo-friendly-yang-belum-anda-tahu.html
Permalink yang bagus untuk SEO : /cara-menulis-artikel-seo-friendly.html
Judul : Tips dan Cara Pembuatan Tahu Goreng Yang Enak Sekali
Permalink asli : /tips-dan-cara-pembuatan-tahu-goreng-yang-enak-sekali
Permalink yang bagus untuk SEO : /cara-membuat-tahu-goreng
Disini banyak yang melakukan sebaliknya. Menggunakan url panjang-panjang dengan harapan lebih banyak keyword yang masuk.
Dengan url panjang, mungkin lebih banyak keyword yang masuk, tapi keyword utama akan lebih susah bersaing.
Matt Cutts dalam interviewnya dengan Stephan Spencer juga menyarankan untuk menggunakan tidak lebih dari 3 – 5 kata dipermalink.
If you can make your title four- or five-words long – and it is pretty natural. If you have got a three, four or five words in your URL, that can be perfectly normal. As it gets a little longer, then it starts to look a little worse. Now, our algorithms typically will just weight those words less and just not give you as much credit.
Meski saya tidak pernah 100% percaya dengan omongan engineer Google yang satu ini, tapi kali ini saya setuju.
Entah ada hubungannya atau tidak, permalink default di blogspot (milik Google) jika tidak di custom juga akan otomatis memotong permalink yang terlalu panjang.
Untuk cara customisasi (merubah) permalink ini cukup simpel, di menu visual editor arahkan kursor ke bagian bawah title postingan dan klik "Edit".
Dari sini anda bisa memendekkan atau merubah permalink sesuai keinginan.
Dalam aturan SEO, permalink (include dengan url domain) sebaiknya tidak lebih dari 90 karakter.
12. Optimasi Meta Deskripsi
Menggunakan keyword utama dikalimat pertama agar lebih SEO friendly biasanya membuat postingan jadi agak kaku.
Untuk mengakalinya, Anda bisa menempatkan keyword Anda di meta deskripsi (untuk pengguna wp bisa menggunakan plugin AIO SEO Pack, SEO by Yoast atau Platinum SEO Pack). Meta deskripsi inilah yang nantinya menjadi snippet di search engine.
Dengan menaruh keyword di meta deskripsi, Anda bisa lebih leluasa dan luwes dalam menulis artikel untuk user terutama di kalimat dan paragraf pertama.
Perlu diperhatikan bahwa meski meta deskripsi ini hanya dilihat search engine ketika mengunjungi blog Anda, meta deskripsi ini juga dilihat user ketika googling di search engine, jadi pastikan kalimat yang ada di meta deskripsi ini tetap menarik dan mengundang klik, bukan hanya sekedar di jejali dengan keyword-keyword dan LSI nya. Sekali lagi, ini berhubungan dengan user experience utamanya CTR Anda di SERP.
Google membatasi penggunaan meta deskripsi sekitar 160 karakter, jadi olah sebaik mungkin meta deskripsi Anda dalam batasan jumlah karakter ini karena jika melebihi maka deskripsi Anda akan terpotong.
Tips:
Untuk mengundang klik dan memperbesar CTR di SERP, Anda bisa membuat meta deskripsi yang membuat orang penasaran.
Contohnya artikel ini, jika saya membuat deskripsi seperti ini bagaimana kira-kira reaksi Anda: "Dari ke 15 Cara Ampuh Menulis Artikel SEO Friendly ini ada salah satu cara yang paling ampuh dan pastinya belum pernah Anda baca dimanapun, yaitu ….".
Beri tanda titik-titik dibelakang deskripsi agar calon visitor semakin tergoda untuk mengeklik dan mengunjungi artikel kita.
Untuk cara menganalisa CTR di SERP juga sudah saya tulis disini.
13. Masukkan Attribut Alt di Image (Gambar)
Google tidak bisa membaca file gambar (image), maka disini penggunakan attribut alt diperlukan sebagai pengganti untuk menjelaskan isi file image ke robot yang melakukan crawling di halaman tersebut.
Perlu digarisbawahi disini, yang dibaca oleh Google adalah attribut alt, bukan title maupun nama file image. Lihat perbedaannya disini :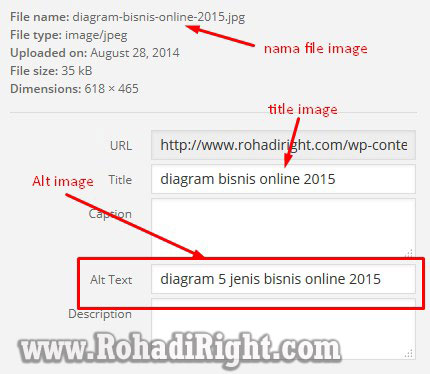 Seringnya, attribut alt (Alternative text) ini disini diisi dengan keyword utama.
Jika gambar Anda cuma 1 – 2 file dalam 1 artikel tentu tidak masalah, tapi jika file gambar Anda cukup banyak sebaiknya Anda memvariasikannya dengan keyword-keyword longtail dan LSI. Juga tambahkan kata-kata seperti gambar, images, pic of atau foto di depan keyword agar lebih natural dan tidak keyword stuffing.
Untuk website-website komersil dengan intensitas posting yang sering, Anda bisa menggunakan plugin-plugin khusus untuk optimasi gambar seperti SEO Friendly Images. Untuk web-web personal dengan intensitas posting yang jarang, sebaiknya gunakan cara manual karena lebih fleksibel.
Jika Anda ingin lebih jauh mengoptimasi meta tags image Anda, Anda bisa membaca tulisan Neil Patel dari Quicksprout. Saya sendiri untuk file gambar sejauh ini hanya mengoptimasi di bagian alt saja.
Tips:
Jika Anda menggunakan image dari Google, jangan lupa untuk merubah title file (biasanya berekstensi .jpg, .png atau .jpeg) agar file gambar Anda tidak duplikat dengan gambar yang Anda download tersebut. Jika perlu, Anda juga bisa mengganti meta-data (biasanya memakai software) dan melakukan sedikit cropping image agar file gambar tersebut benar benar "baru dan unik" dimata Google.
Tips 2:
Resolusi dan ukuran gambar yang lebih besar biasanya mempunyai performa yang lebih bagus di search engine. Usahakan untuk minimal menggunakan gambar dengan ukuran 400px x 600px. Jangan lupa melakukan kompresi file jika dirasa terlalu memberatkan loading web.
14. Pengunaan Media ke dalam Artikel (Images, Video, Infographics, dll)
Semakin kaya informasi yang Anda sajikan, semakin besar kemungkinan Google mendeteksi artikel Anda sebagai artikel yang berkualitas.
Jika memungkinkan, gunakan media-media untuk memperkaya isi tulisan seperti gambar, video, tabel, chart, infographics maupun maps.
Dari user experience pun hasilnya tentu bagus karena pembaca dimanjakan dengan tulisan yang kaya informasi dan kaya visualisasi.
Dikutip dari Quicksprout.com, konten dengan disertai gambar yang relevan dibaca 94% lebih banyak daripada konten tanpa gambar yang relevan.
Pemakaian infographics juga 3x lebih berpeluang mendapat like dan share di social media dibandingkan jenis konten lain.
Dan terakhir, dikutip dari Neomam.com, perbandingan antara kecepatan membaca konten visual dibanding tulisan adalah seperti sepersepuluh detik dengan satu menit.
Wow …
15. Gunakan Variasi Keyword
Poin terakhir dalam tata cara menulis artikel SEO friendly adalah variasi keyword. Sedikit berbeda dengan keyword density dan LSI,  yang saya maksud dengan variasi keyword disini adalah penggunaan keyword utama secara sepenggal-sepenggal di sekitar artikel.
Contoh :
Keyword : cara membuat blog gratis
"Kali ini kita akan membahas tentang cara membuat blog gratis. Bagi anda yang ingin eksis di internet tapi belum mempunyai modal untuk beli domain dan hosting, maka blog gratis bisa menjadi salah satu solusi. Anda bisa membuat blog gratis di blogger, wordpress, tumblr, dan sebagainya. Cara membuat blog sangatlah mudah, jika Anda mengikuti step by step yang saya sajikan dibawah ini, saya yakin dalam beberapa jam Anda sudah bisa membuat blog anda sendiri.."
Tentu saja anda tidak bisa mengaplikasikan model kalimat diatas dalam satu paragraf saja karena akan menjadi keyword stuffing. Sebar ke dalam beberapa paragraf dan artikel anda akan menjadi lebih SEO friendly dengan variasi keyword yang natural. Semoga Anda bisa mengerti poin yang ingin saya sampaikan disini.
Jika Anda masih kurang jelas, silahkan lihat penjelasan gambar dari Moz.com berikut ini :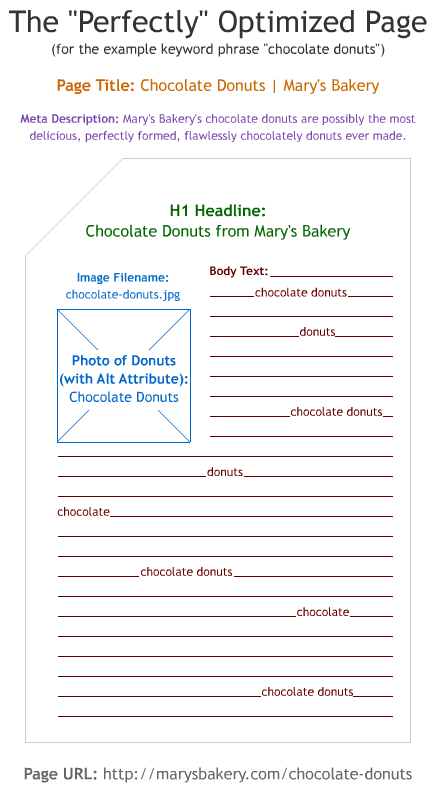 Variasi Keyword ini juga membuat tulisan Anda menjadi lebih hidup dan luwes. Bandingkan dengan penulisan yang selalu menyertakan exatch match keywords misalnya :
"Kali ini kita akan membahas tentang cara membuat blog gratis. Bagi anda yang ingin eksis di internet tapi belum mempunyai modal untuk beli domain dan hosting, maka cara membuat blog gratis ini bisa menjadi salah satu solusi. Anda bisa mengaplikasikan cara membuat blog gratis ini di blogger, wordpress, tumblr, dan sebagainya. Cara membuat blog gratis sangatlah mudah, jika Anda mengikuti step by step yang saya sajikan dibawah ini, saya yakin dalam beberapa jam Anda sudah bisa membuat blog gratis anda sendiri.."
Kesimpulan
Menulis artikel yang SEO friendly untuk menarik perhatian mesin pencari itu bagus, karena bisa meningkatkan trafik pengunjung ke blog Anda. Tapi jangan menggunakan teknik-teknik optimasi on-page artikel Anda hanya semata-mata untuk SEO.
Sekarang ini algoritma mesin pencari sudah semakin pintar, apalagi si raksasa Google dengan berbagai hewan peliharaannya mulai dari Panda, Penguin sampai Hummingbird.
Tulislah artikel yang memberikan value (berguna), mengutamakan user experience dan diimbangi dengan elemen-elemen on-page SEO seperti yang saya sebutkan diatas, kemudian disertai dengan polesan backlink untuk optimasi off-page, maka kemungkinan besar tulisan Anda bisa segera bersaing di SERP.
Saya tidak akan naif, sebagus apapun artikel Anda jika tidak disertai optimasi off-page maka tidak akan bisa maksimal di SERP, apalagi jika Anda berada di niche yang membosankan dan susah untuk menarik link bait maupun viral share (contoh: asuransi, lowongan kerja, perpajakan, dll).
Pengin tau alasannya..? Simak analisa SEO saya disini.
Orang bilang "content is the king", tapi bagi saya umpama pemilu maka backlink dan user experience adalah orang-orang yang memberi suara agar suatu content bisa diangkat menjadi kandidat raja :D
Baru kemudian setelah di page one giliran Google yang menentukan apakah suatu konten layak dijadikan raja atau harus dieliminasi, disuruh pulang dan disuruh berbenah lagi :D
Jangan lupa juga melakukan riset keyword terlebih dahulu sebelum menentukan judul dan tema postingan agar artikel anda bisa lebih nendang di halaman pencarian.
Itulah 15 Cara Menulis Artikel SEO Friendly yang bisa Anda terapkan ke blog Anda. Apakah Anda ada pertanyaan ?
Atau mungkin ada poin yang saya lewatkan ?
Silahkan tuliskan di kolom komentar.
Artikel lain seputar SEO :