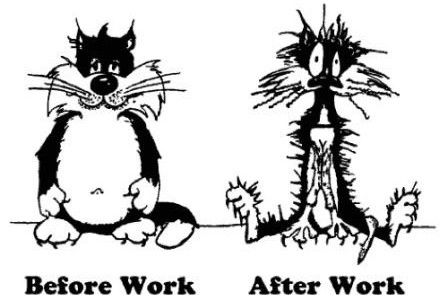 Apakah anda seseorang yang susah dalam membagi waktu untuk pekerjaan ??
Sudah membuat to-do list tiap hari tapi tetap tidak bisa menyelesaikan seluruh task yang ditulis ??
Atau malah anda sudah mengorbankan waktu istirahat untuk begadang demi pekerjaan yang tidak kunjung selesai-selesai ??
Dan, anda merasa waktu 1×24 jam dalam sehari tidak pernah cukup untuk merampungkan tugas-tugas anda ??
Jika jawabannya adalah iya, maka kemungkinan anda bermasalah dengan habit (kebiasaan) dalam menyelesaikan pekerjaan. Dan para internet marketer sukses yang akan saya ulas berikut ini semoga bisa menjadi sumber inspirasi dan motivasi serta bisa merubah habit anda yang kurang produktif.
Saya banyak belajar dan mempraktekkan tips-tips yang mereka tulis di websitenya selama setengah tahun belakangan ini dan hasilnya sungguh terasa, saya merasakan banyak perubahan dan kemajuan dalam hal produktivitas dan memenej waktu.
Berikut ini 4 internet marketer yang saya rekomendasikan sebagai tempat belajar dan sumber inspirasi bagi anda yang ingin mengatur waktu dengan lebih efisien :
Lebih suka dipanggil dengan sebutan dr. Ngo, dia adalah seorang affiliate marketer sukses yang menekuni paid traffic sebagai sumber trafik utama untuk setiap campaign-campaignnya. Selain menulis tips-tips seputar affiliate dan paid traffic, dr. Ngo juga rajin berbagi tips untuk memaksimalkan produktivitas dalam bekerja dan bagaimana menyeimbangkan antara pekerjaan, kesehatan dan leisure.
Salah satu artikel yang paling saya suka adalah tentang Social Media Addiction, yaitu bagaimana sosial media bisa menjadi salah satu 'musuh besar' bagi internet marketer karena mengganggu fokus dalam menyelesaikan pekerjaan, mengurangi produktivitas dan bisa menyebabkan stress. Dan menariknya, kebanyakan ini tidak disadari oleh para pelakunya.
Charles Ngo adalah seseorang yang sangat concern dengan efiensi waktu.
Quote yang saya sukai :
"Saya tentu tidak bisa membeli waktu. Tapi dengan uang, saya bisa membeli waktu orang lain"


""Jika kamu bisa mengajari seseorang untuk mengerjakan tugas sebaik 80% dari kamu, maka delegasikan"

Beberapa artikel menarik yang patut anda simak antara lain 9 Simple Ways to Have a More Productive and Successful Year, The 6 Factors to Getting More Work Done dan The Secrets of Goal Setting: A Framework and Strategies that Work.
Entrepreneur berbadan gempal yang hobi menulis, olahraga dan fotografi. Tulisan-tulisannya tentang produktivitas dan manajemen waktu sangat berkualitas dan mendetail, disertai dengan referensi-referensi terpercaya di setiap artikelnya. Kebanyakan referensi berasal dari buku, studi kasus, biografi tokoh sukses dan sebagainya. Jadi keakuratannya cukup bisa dipertanggungjawabkan.
Tampilan websitenya sangat simpel dan clean, tanpa sidebar ataupun banner iklan yang bisa mengganggu fokus pembacanya.
Salah satu tips yang sangat mengena adalah tentang Progress dan Goals Setting. Tentang bagaimana kebanyakan orang lebih berpusat pada hasil akhir, tanpa merencanakan plan yang matang dan terstruktur untuk meraih hasil akhir tersebut. Tentang bagaimana orang lebih fokus ke "Goal", dan melupakan faktor yang tidak kalah pentingnya, dan bisa jadi lebih penting, yaitu "Proses".
Beberapa artikel yang menarik antara lain How to Stay Focused When You Get Bored Working Toward Your Goals dan Forget About Setting Goals. Focus on This Instead.
Sosok yang cukup unik karena selain sebagai seorang affiliate marketer, Malan Darras adalah juga seorang penyanyi dan penulis lagu. Pria bertato yang gemar bersepeda pagi ini menganut pola gaya hidup sederhana. Tips-tips nya mengenai produktivitas dan manajemen waktu biasanya cukup singkat tapi to the point dan sangat mengena.
Seperti Jamesclear.com, tampilan di web Malandarras.com juga sangat "bersih".
Artikel yang paling saya sukai, "Want to Achieve Greatness, Stop Starting Over".
Sosok internet marketer yang sukses dan terkenal dengan bukunya "Virtual Freedom". Chris Ducker fokus menulis tentang bagaimana efisiensi waktu dan produktivitas bisa dengan cepat ditingkatkan dengan membangun team yang solid dan kuat untuk menunjang bisnis melalui media outsourcing, terutama outsourcing menggunakan tenaga profesional yang didapat melalui media online atau biasa disebut dengan VA (Virtual Assistant). Tips-tips outsourcing yang ditulis cukup mendetail dan step by step.
Jika anda adalah seorang single fighter (belum mempunyai pegawai) maka artikel-artikel di web ini sangat saya rekomendasikan.
Artikel yang patut anda simak, 27 Reasons Every Entrepreneur Should Utilize the Power of Virtual Staff!
Itulah 4 sosok internet marketer sukses yang bisa dijadikan rujukan untuk belajar produktivitas dan manajemen waktu. Seperti biasa, tulisan ini berdasar pendapat dan pengalaman saya pribadi. Dan pendapat tiap orang bisa berbeda-beda.
Jika anda mempunyai sumber rujukan lain jangan sungkan untuk berbagi, siapa tau saya juga bisa belajar dari referensi-referensi anda.